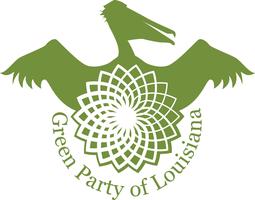 By Robert Morris, MidCityMessenger.com, June 15th, 2016:
New Orleans' broken criminal justice system, corporate control of the city's economy, environmental policies and even the social injustice in the allocation of basic street repairs will all be among the central issues that a reinvigorated Green Party of New Orleans plans to include its new "Greenprint" of local priorities, activists said Tuesday night.

With the historic unpopularity of the two major-party Presidential candidates seeking more voters to third parties, national polling firms are now beginning to include Libertarian nominee Gary Johnson and Green candidate Jill Stein in their surveys. Locally, the New Orleans chapters of both the Greens and the Libertarians are seeing increased interest in their activities as well — and the Greens outlined a plan to focus that interest into specific issues on Monday night at their new meeting place at Monkey Monkey coffee shop in Mid-City.

The national Green Party already has a set of "10 Key Values" intended to drive their policies, and local activist Bart Everson offered a plan to begin connecting those values to the most pressing social issues in New Orleans, proffer possible solutions, and then identify other groups already working on those issues to partner with. A small group of local Green Party diehards, Bernie Sanders supporters curious about alternatives to the Democratic Party, and issue-oriented activists began discussing which items to include.

As an example, Everson proposed an examination of the city's criminal-justice system, starting with the ongoing problems at the Orleans Parish jail. That issue, he said, connects directly to the party's values of social-justice, nonviolence and anti-racism.
Read the rest of the article here.